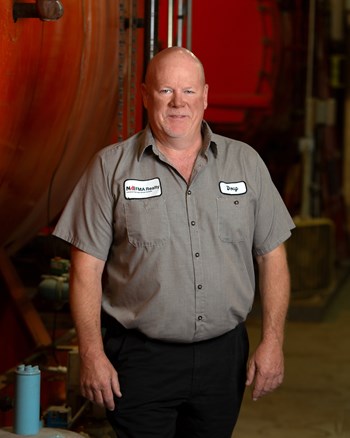 Specialties
Facility Maintenance
Scope of Experience
Doug Meier serves as a Field Supervisor for the city team under the maintenance division where he assists the Senior Vice President of Maintenance in directing the day-to-day work of other personnel as well serves as a building engineer on a portfolio of office and medical office properties. His extensive knowledge of building systems includes monitoring and adjusting Energy Management Systems and performing HVAC, electrical and plumbing repairs to a variety of equipment and fixtures. He prides himself on building strong relationships with tenants, contractors, owners, and vendors, contributing to on-site efficiency and satisfaction.
Background & Experience
Meier joined NAI FMA Realty in 2010 as a Maintenance Technician and was promoted to his current position in 2020. Prior to joining NAI FMA, he lived in Minnesota where he owned a business for 16 years and was involved on the fire and rescue department for six years.
Education
Management and Business Degree, Dakota Community College, Rosemont, Minnesota
Degrees for Fire Fighter 1 and EMT 1, Hennepin College, Minneapolis, Minnesota